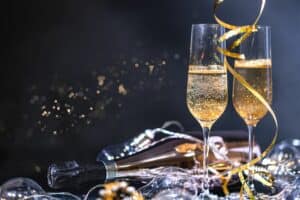 Seasons greetings friends!
Well, here we are at the end of one year and about to start a new one. An exciting time – new years bring new possibilities: a time of resolutions, thoughts about what we want to achieve in the new year, a chance for us to keep what's good and to bring fresh intentions into our lives.
2022 has been the year in which we finally seemed to get past the worst of the covid shutdowns. After two years in which gatherings and parties could not happen, now we see our world reviving, like a bad Winter giving way to Spring and all the hopes that we place in this new flourishing. In this last year people started seeing each other again and the national parties came back with new life and energy and enthusiasm.
2022 has been a busy year for us here at The London Tanners. It's good news: it means our friends are active – and that means quality implements are needed – yay! We're looking forward to 2023 being a year of enthusiastic activity: getting back into the swing of things, as you might say!
This is a time of year when we think about friends and our families, our inherited families and our chosen families. Here at The London Tanners we think of you – you who are our friends, our chosen family – and we smile as we think of you pursuing your dreams, and we hope you have the maximum fun doing that.
And as we think of you we are grateful to you. So as we go into 2023 we say thank you and we wish you good health, happiness, fun and joy.
Wishing you a Happy New Year and all the best for 2023,
Nick and all of us at The London Tanners
Don't forget you can always reach out to us on Instagram, Twitter, Facebook, and through our website.