Happy New Year, everyone!  I hope 2021 is a good year for us all, and definitely better than 2020!
So, with a new year, we have new items for you, added to our online shop.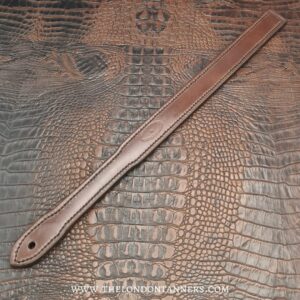 Extra Heavy
We are getting more demand for extra heavy pieces and therefore we have decided to go heavy with our English Strap.  Like our current English Strap, it measures 21 inches long by 1.5 inches wide.  However, we have doubled the thickness and hand-stitched the layers together to create a much heavier strap.  This will feel more like an Irish School Strap with a thuddy feel to it.  As with all of our implements, it is polished to a beautiful, glass-smooth finish.
Check out the XH English Strap Here.
Custom Made Belt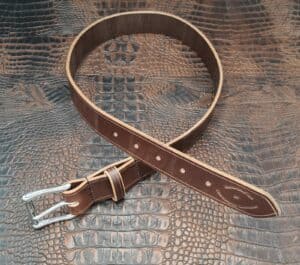 After much demand, we are also adding a belt to our collection.  These are made from thick, supple 4.5mm thick leather and available in Rich Tobacco Brown or Solid Black.
The Belt is 1.5 inches wide and the buckle is high-quality, nickel-plated.
These belts are custom-made to any length.
What better way is there to have the perfect London Tanner spanking implement to hand, than having it around your waist?
Order your belt here.
Extra Heavy Set
We decided that our collection would not be complete without an Extra Heavy Set.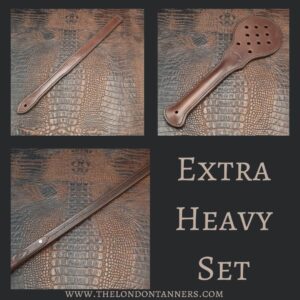 Three beautiful items made for those who prefer a harder spanking.  Each of these implements will deliver a very different sensation, so perfect to add to your collection and use each one in turn in a session (ouch!). It's a great way to get all three implements at a discounted price.  The Set comes in a handmade bag too.
You can find the Extra Heavy Set Here.
We plan to add more extra-heavy items in the near future so watch this space.  In the meantime, we would love to hear from you with your ideas of what YOU would like to see added to our shop. Email us at thelondontanners@gmail.com, or send a message on Twitter, Instagram, Facebook, or Fetlife.
Nick, The London Tanners